Last Sunday my brother woke me up while my kids together with hubby and I were having our afternoon nap. He said there was a man looking for me. Hubby got up instead and went to see the man. When he got back he was holding this:
Hubby said it was given by the man and just asked him to write his printed name and signature on the receiving form. While he was doing so, the man asked him if I sent text message to join the promo or sent email. Hubby said he had no idea and the man left.
I don't remember any contest that I joined connected to Wyeth or Nurture Network so I just assumed that maybe they got my info in from the Internet since I own this
Mommy blog
. I have no plan though on giving this to my kids since they are into Lactum milk and with this small can, I might have problems if they will actually like it.
(Lactum is cheaper than Progress I think).
So, I said I'll just give it to one of their cousin who is into Progress milk.
But today, after work, my mom came to our house holding another can of Progress milk! She said the man who delivered it is different from the first one who gave it. Whew! Christmas truly  means gift giving and sharing!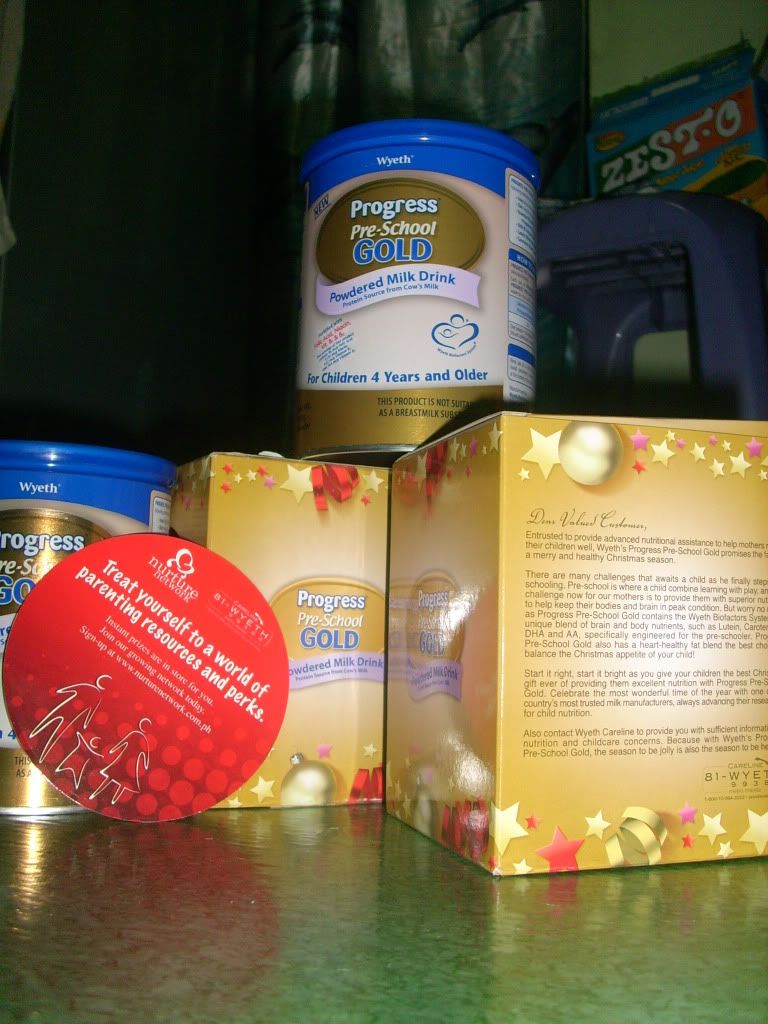 (2) Two Progress Pre-School Gold 
As of this writing, I browsed for Nurture Network's website and tried to register as the flyer indicated. I did filled up the forms and registered myself. It was a parenting site and I think I will be lurking around there for some time as it seems to be helpful and informative for parents, especially moms like me.
Mom's out there, try browsing
Nurture Network
too and who knows, you might be the next mom who will receive freebies from them:)