Weekend! Another rest day for working moms and just another busy days for those who will stay at home together with their kids (talking about myself huh!) I usually do my laundry during Friday night (like tonight) at the same time browse and do my on-line tasks. Thanks to our fully automatic Samsung washing machine! Yep, as in I will just load all our clothes, open the faucet and it will wash, rinse and spin on its own but I still need to hang them to be fully dried (and that's my most hated part!)
Anyway, I can't believe December is already here, time flies really quick when your busy, right? Hubby and I did our bi-weekly grocery today because we didn't got the time to do it last weekend because of the Cainta's town fiesta (December 01). My mom told us that for sure there will be lots of people in Big R, where we usually go for our groceries so we decided to cancel it off.
Luckily, there were only few people when we got there around 2pm. Since our kids were at school, we finished our shopping smoothly and without any hassle. As we were approaching the counter, I saw these: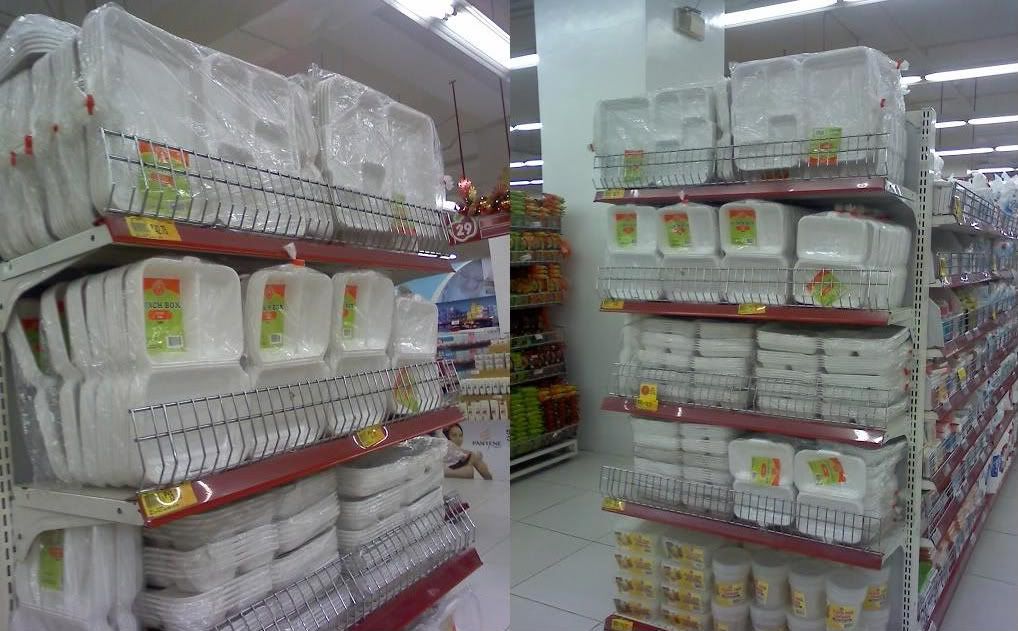 With the upcoming celebrations for this month, I tossed few packs of these products to our shopping cart. Disposable plates are very much convenient to use especially during family gatherings such as Christmas, New Year celebrations, reunions and other get together party. By using these stuff, you, as the host, will never have to go through the hassle of washing the dishes. And of course, family gatherings will never be out of small and tacky little children. You can save your ceramic plates and other fragile cutleries from sudden drops in case they will run around or just  be "children".
I'm not quite sure though if what's on our cart were made of biodegradable materials just like what I've seen from the Internet when I searched for Eco-friendly products. Yes, plates and cutleries are not just made of plastics or Styrofoams. There are manufacturers who see beyond making money and thus create products out of safe and natural resources. There are disposable plates that may look like plastics but are actually made of pulp, reeds or sugar canes. When you dispose these
biodegradable plates
, they will not remain in our land fills but will actually blend with nature. Now, that is amazing right?
I promised myself though that if I happen to see
eco-friendly disposable plates
in the market, I will definitely choose them over plastics and Styrofoams so I would not feel guilty when i trash them out. In the end, I put the stuff back on the rack and just decided to search on-line for biodegradable plates available in the local market.