This is a Sponsored post written by me on behalf of Boudreaux's Butt Paste. All opinions are 100% mine.
For me, I become one whenever I'm doing multiple tasks at home. My weekends usually goes this way: I will bathe my three kids, let the two toddlers play outside while I put my youngest daughter to sleep. It will take few hours especially when she is in a bad mood, like when she is having another painful diaper rash. She wouldn't want to be left on her bed and will just cling on me most of the time because her butt hurts. That's why I make it a point to always have a diaper rash cream in our home. After bathing my youngest daughter, with or without diaper rash I will apply the cream on her. My husband would always say that I'm paranoid when I do that, but I will say, better to be safe than sorry.
My friend in Germany actually agreed on me as she also do this with her two sons. She uses Boudreaux's Butt Paste as recommended by her children's Pediatrician. Funny but she even told me that the doctor even discussed with her that Boudreaux's Butt Paste contains 16% Zinc Oxide and Peruvian Balsam. Though these are alien words for her, she just said that as long as it goes on and cleans off easily and will treat diaper rash and other skin irritations then by all means she would buy lots of it. With that I jokingly told her that maybe she could send one Boudreaux's Butt Paste to me. She agreed because according to her, Boudreaux's Butt Paste is giving away free samples as of the moment and she will be glad if I could try this on with my kids. (Maybe you could also check out their site and be one of the lucky sample recipients) I got excited with that idea especially when I remembered seeing this brand in one of the Oprah Show and in People Magazine.
That conversion was actually several months now and I got what she promised when her mom came back here after visiting her in Germany. Boudreaux's Butt Paste is really different from the one I used before as it has a pleasant scent and my children would often say it smells like lotion or cologne. I bring it everywhere we go as it comes in a handy travel size with flip top caps. Danke schön again my friend for this gift!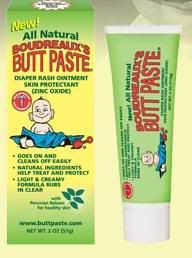 Oh well, me and my big mouth I almost go way out of my intended topic. So there, after taking care of the kids, I will start doing my laundry while I check my emails and if no one will disturb me, I will sneak a quick post on my blog. Lunch with my mom's place should follow, do the dishes then put the two toddlers to sleep while I play with Cien. Around four or five in the afternoon, when the kids wake up, I will clean up the house before hubby gets home. Sometimes, I cook dinner (just fried dishes) but mostly it will be another dinner with my mom's place with my given budget of course. After dinner, I will fix the kids and prepare them for bed. When they all dozed off to sleep and so as hubby, I will be in front of my laptop again and stay up until 2 or 3am to do my online tasks. That's when I consider myself as a Super Mom.. how about you? When do you become a Super?