Last Sunday, I got the chance to meet my virtual co-workers. It was a simple get together organized by our Filipino contact from China who was here to spend the Holiday with his family. We were asked to be at Sky Garden (SM North Edsa) for a lunch.
I arrived before 12nn and since it was my first time to be in that place (yep, shame on me!) I got a bit nervous if I'm on the right spot. There were plenty of people that time and I was a bit worried when I couldn't see the group. I've sent text messages to the person concern but with no reply. He did reply though after few more texts and said that they were on their way. He mentioned the color of his shirt but I was puzzled when he said he's wearing ube-keso (turned out he was wearing striped shirt of yellow and purple). He was with her sexy and beautiful wife when we finally met. He said the rest of the group were on their way too then I went with her wife to look for a place to dine.
While scanning all the food outlets we were also doing our small chit-chats. Then we arrived here: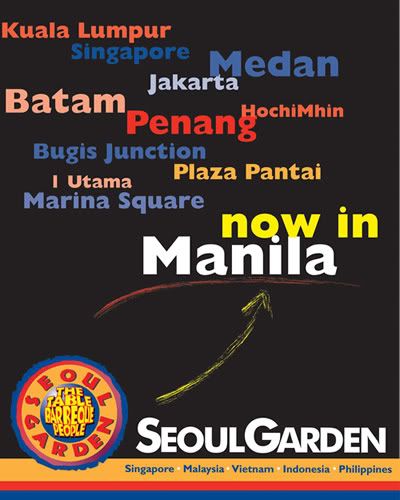 Upon checking on the menu, she texted her husband and told him to bring the rest of the group there. We asked for a table for 12 and we were led to the first table near the mall's entrance. We were all first timer on this restaurant that's why we were giggling on how the ordering process was.
We then all stood up and headed on to the buffet. You will just have to pick from their sturdy tableware
(I was meaning to asked one of their food attendant if those were
biodegradable plates
but had second thought because people were religiously coming in).
While dining we were talking about work and some personal stuff about ourselves. Some of them knew each other for a long time through Skype but it was also the first time that they met each other in person. I think I was the newest member in their group.
It was a fun day indeed! Getting to know the people you have been working with on a virtual world:) We had some pictures but they were not e-mailed to me yet and even if I have them on hand, I don't think they will like the idea of me posting their identities here so I guess I would just have to edit them first. I will update this post though, once I got the pictures.